EMPIRE DV WALL HEATERS
Whether you need to heat a single room or an entire home, Empire has Direct-Vent Furnaces to suit your needs. Specifically designed for areas where flues or chimneys are not available or cannot be used. Removable front panels for easy cleaning and servicing.

Uses outside air to support combustion. Inside air is warmed as it recirculates around a sealed chamber. This warm air heats the room cleanly and efficiently.
DV 210/215
Clean and cost-efficient comfort make the DV210 and DV215 the perfect heaters to warm your smaller rooms. The slim, compact design allows the heater to tuck out of the way on an outside wall. Quiet burners, matchless piezo ignition, and all the safety features you expect from Empire Comfort Systems come standard.

Optional automatic blowers install easily for more even heat distribution. Ideal for bedrooms or studies, wall furnaces add comfort and beauty to any decor.

DV210SGX (10,000 Btu) and DV215SGX (15,000 Btu)
- Thermostat not included
- Slim, compact cabinet mounts on an outside wall.
- Quiet operation
- Matchless piezo ignition (heats without electricity)
- Optional automatic blower
- Ideal for bedrooms or studies
- Made in USA

DV 25/35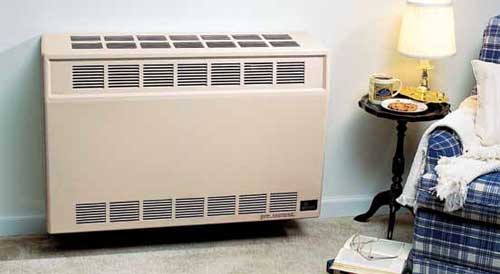 Heat larger areas with Empire's DV25 and DV35 Direct-Vent wall furnaces. Delivers room-filling warmth; fits against an outside wall. A push of the button ignites the pilot with a matchless piezo system. Add an optional internal blower for even greater air circulation.

DV25SG (24,000 Btu LP and 25,000 Btu Natural) and DV35SG (35,000 Btu)
- Thermostat Included
- Console cabinet mounts on an outside wall
- Quiet operation
- Matchless piezo ignition (heats without electricity)
- Optional automatic blower
- Ideal for family room
- Made in USA